Gallery
Our gallery contains pictures of work made using our threads, fabrics and buttons



Melton Work by Katy Choroszewska
For details please see the Stitching Ideas blog post about reverse chain stitch, lazy daisy stitch and french knots using our Mercerised Cotton Thread on Melton fabric

Book by Anne Crozier


Embroidered book cover, herringbone stitch worked in mercerized cotton on hand dyed cotton.
11 x 16cm approx.



And Pigs Might Fly... by Katy Choroszewska
Chain stitch and running stitch worked in stranded cotton on cotton lawn, approx. 50cm x 50cm
.
Needlebooks by Fran Baigent
Needlebooks in canvas work using fine cotton perle
Thimble Purses by Fran Baigent
Thimble purse 1 uses our pillow cotton, fine cotton perle and porcelain button.
Thimble purse 2 is stitched in canvas work using fine cotton perle.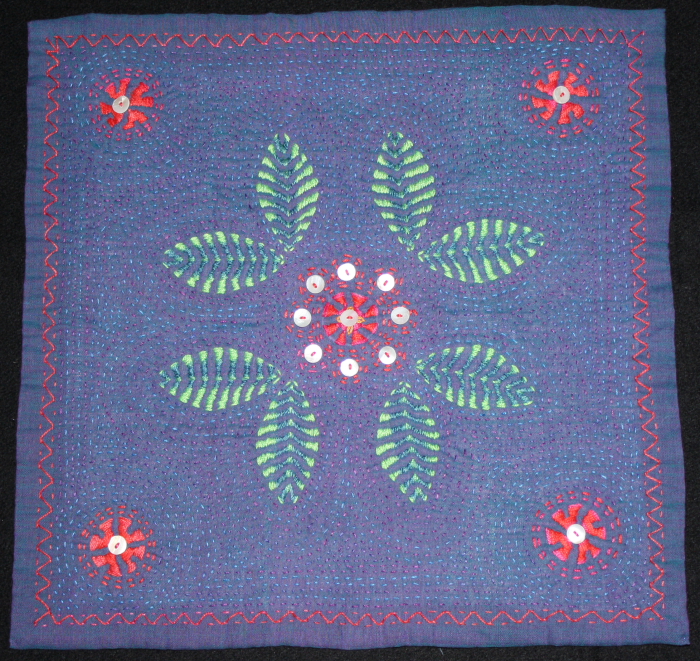 Kantha by Katy Choroszewska
Kantha is worked in stranded cotton.
Trees and Fish Bag by Katy Choroszewska
Cotton lawn applique with embroidery in stranded cotton
Pear Tree Book by Katy Choroszewska
Hand dyed cotton embroidered with one strand of stranded cotton in chain stitch, running stitch and fly stitch.